Signature Homes
9 Units
Spaces To Luxuriate
Located on the ground floor mezzanine level, the Signature Homes unfold a spacious family living experience reminiscent of landed homes, all amidst scenic high rise exclusivity. Enjoy the convenience of a car park right at your doorstep, as well as ample space for treasured moments with those who matter most. Each unit comes with a private pool, with a choice of covered or open layouts catering to personal preference.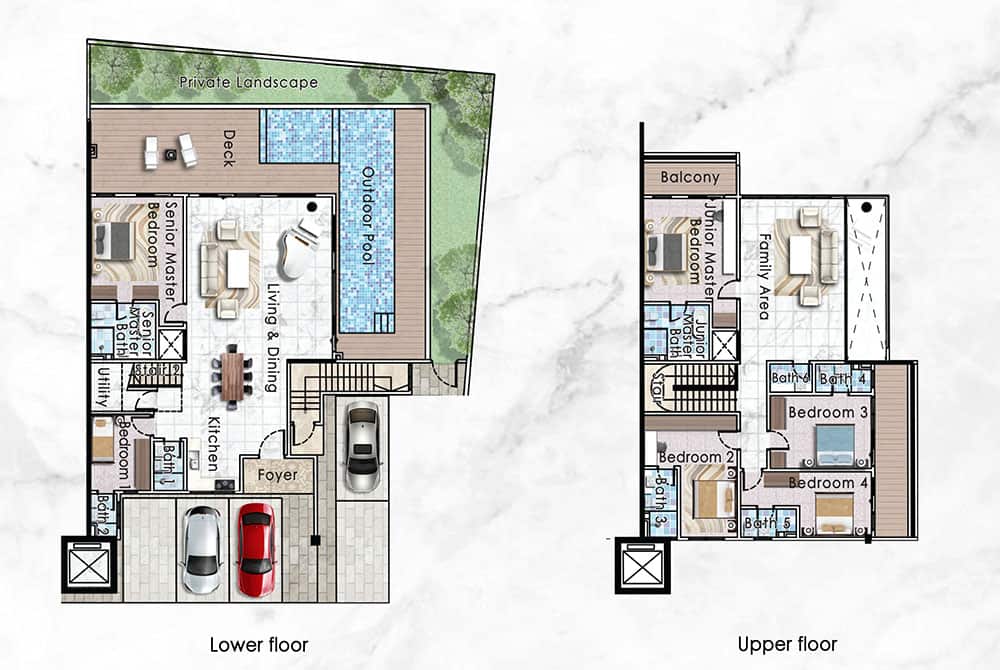 Iconic Condo
26 Units
A View of Grandeur
The quintessential elevated lifestyle, graced by contemporary luxury and iconic charm. Spread across two floors of 13 units each, the condos are served by four private lifts for exclusivity and personal space at all times. At the same time, nature's gentle touches lie close to home through an open central space housing an Urban Forest with flowing manmade creeks. The boundless architecture concept also fosters a sense of community among neighbours, while ensuring privacy.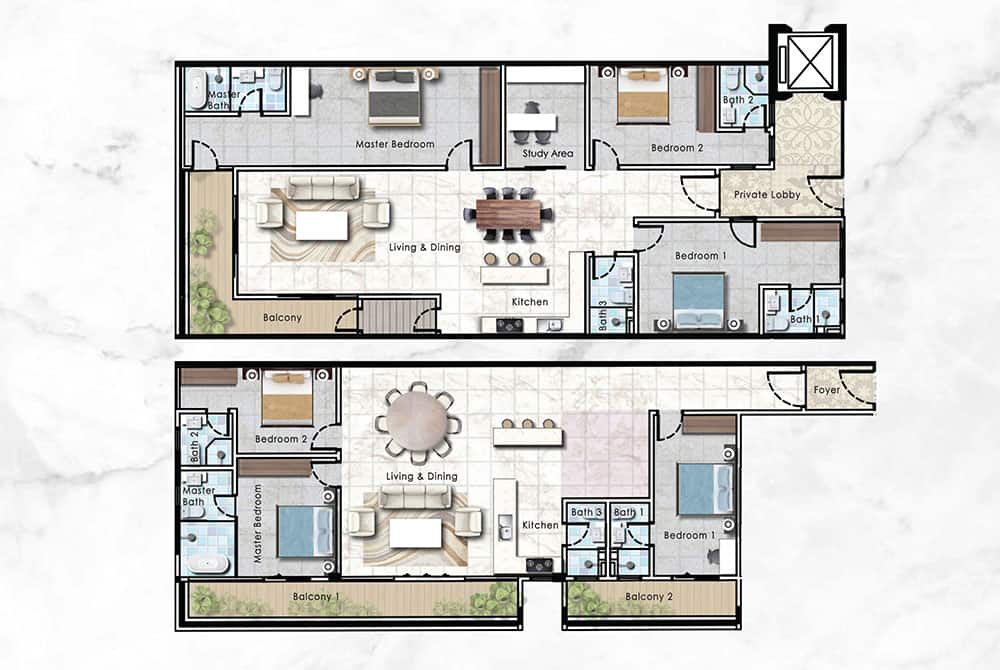 Sky Villa
9 Units
The Pinnacle Of Prestige
The crown jewel of One East, each Sky Villa encompasses 2,000 to 4,700 square feet of artfully designed refined living spaces. Come home to your very own place of indulgence with a personal bathtub and private pool – available in open, semi-covered and covered builds based on your liking.
The layouts features a Balinese style concept, whereby the pool is visible straight upon stepping in the entrance, creating an impressive front that melds architecture and nature. The use of expansive glass windows accentuates space to create seamlessness between the indoors and outdoors, crafting a larger than life sanctuary for your favourite family activities.
With various rooms and living areas, rest assured of immense space for playtime, rest and dining together. The unit also features a unique hanging cabin which comes in transparent and covered version, ideal for use as an additional study or viewing room.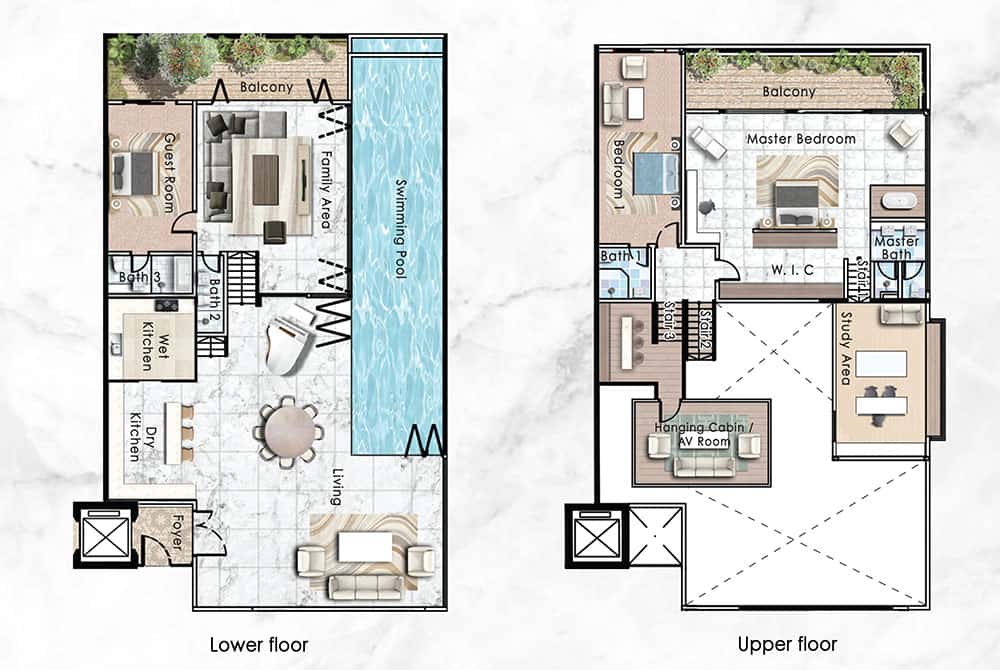 Contemporary Hotel Suites
13 Units
Functional Elegance
A compact and practical built-up that perfectly suits the needs of singles, new couples or small families. The interior makes use large windows and spaces to maximise natural lighting and ventilation, infusing and ambience of breezy and cosy vibes that one will love to call home. Sleek and elegant surfaces, coupled with thoughtfully planned spaces, complete the modern sanctuary that's just right for today's discerning urbanite.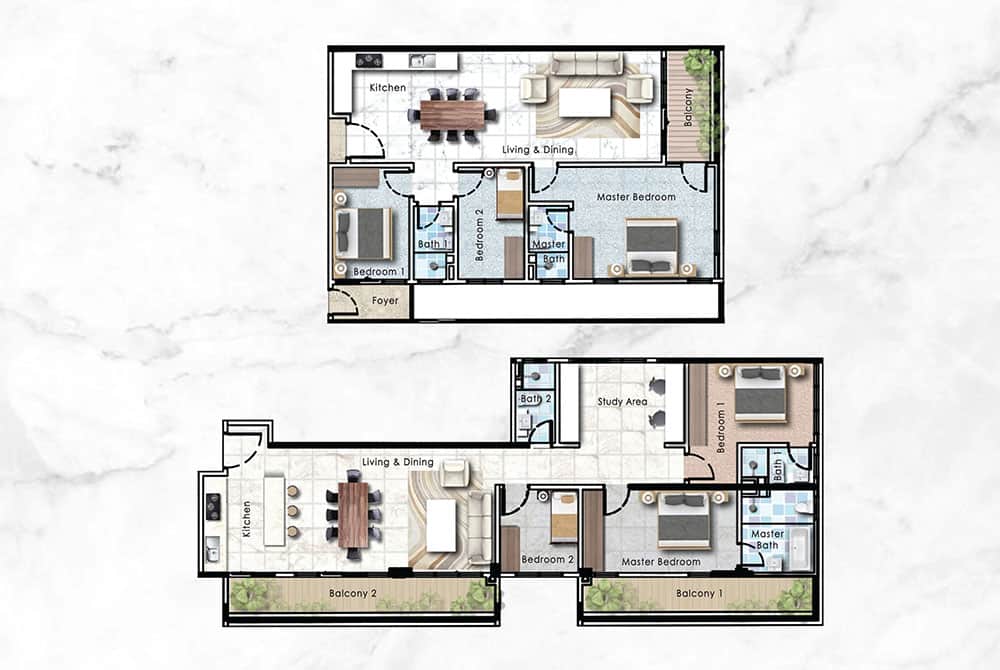 Designer Suites
6 Units
Live In Style. Your Style.
An ideal choice for those with a flair for interior design, the Designer Suites are akin to a blank canvas to captivate your imagination with. Bring your own dream home to life with empty units, available for customisation according to your individual style and liking. The Designer Suites also offer excellent convenience and accessibility, with lifts directly sited at your house entrance.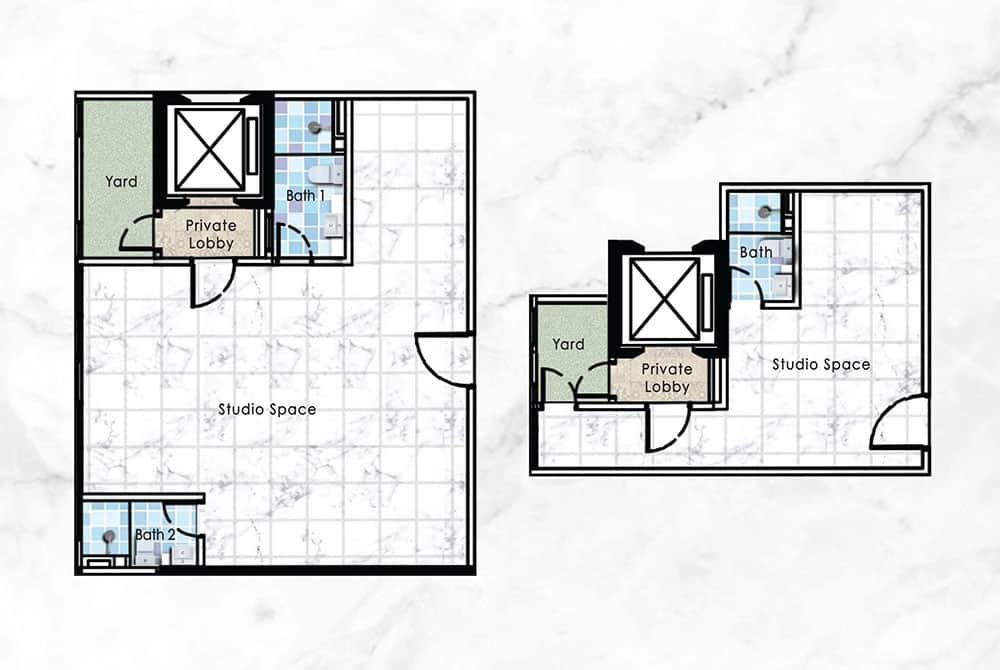 Bridge Manor
1 Unit
Fronted By Exclusivity
With only one unit available in the entire One East residence, the Bridge Manor is a highly exclusive masterpiece that stands out effortlessly. Its namesake draws inspiration from the unique design connecting between the centre court to the edge of the building, offering a gorgeous view of the skyline below as well as the soothing green pockets within One East. Apart from impressing on the outside, the Bridge Manor also fascinates on the inside with sublime contemporary styling graced by abundant practical space.